IS YOUR SMOKE ALARM PROTECTING YOUR HOME?
The idea of a simple kitchen accident or faulty wiring setting light to our home and endangering our families is one few of us stop to consider. But, when the worst does happen, you want to make sure that you do everything possible to ensure the safety of those you love. The best step to take is to first ensure that your smoke alarms are updated.
So, what do you need to know about smoke alarms in your home?
The Queensland Fire and Emergency Services have five recommendations:
1. Residential buildings should be fitted with photoelectric smoke alarms. From 1 January 2017, all new dwellings must be fitted with these alarms or if an existing smoke alarm is being replaced, it must be replaced with a photoelectric alarm. By 2022 all domestic dwelling being sold or leased must be fitted with photoelectric alarms and by 2027 all other dwellings will be required to have these alarms. For more information consult the Queensland Fire and Emergency Services Website.
2. Smoke alarms should be either:
Hard-wired. These are directly connected to your home's electrical system, with back up through a battery. This type of installation is considered the most reliable.
Powered by a 10-year lithium battery.
Smoke alarms should be placed on the ceiling or high on a wall and should be located:
On each level of living space
Outside and inside each bedroom
It is best to avoid installation:
In kitchens
In dead air space where smoke is prevented from reaching the alarm. For example, corner junctions of walls and ceiling, between exposed floor joists and at the apex of cathedral ceilings
Near doors, windows, air conditioning units, and fans
In or outside bathrooms. Steam may cause false alarms
This is all in accordance with the manufacturer's instructions.
3. Smoke alarms are to be interconnected. This means that when one is activated, they all become active, allowing more time to escape in the event of a fire.
4. Have an escape plan ready and practice regularly. This will ensure the safety of your entire household in the event of a fire. There may be as little as 15 seconds to escape a house fire. For advice on how to implement an escape plan, please visit the Queensland Fire and Emergency Services website.
5. Our friendly team at North Lakes and Surrounds Electrical can provide advice on smoke alarm installation and maintenance as well as any other electrical requirements you may need. If you have any questions do not hesitate to contact us on 3053 3118.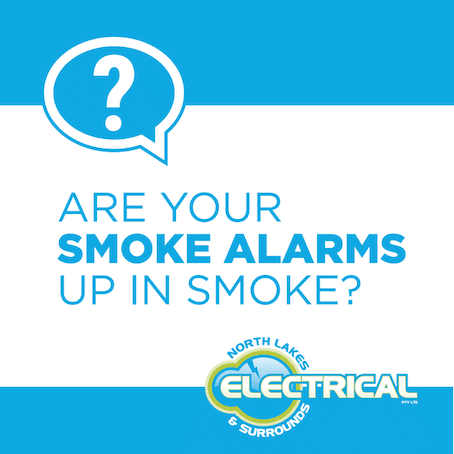 Book your new smoke alarm installation or upgrade
today
House fires are responsible for destroying the lives of over 1000 residents every year on average. The manufacturer's life expectancy for smoke alarms is ten years. You also need to test the smoke alarm every three months by pushing the test button to ensure it is still functioning. At North Lakes and Surrounds Electrical we can check, upgrade and install your smoke alarms for peace of mind and ensuring the safety of your loved ones in your home.